Pomegranate Wellness Spa Hotel was honored to host the second day of the School Of Tourism On Tour in the region of Halkidiki. Pomegranate was sponsor of the successful event in which the organizers managed to bring together Greek tourism's sophisticated talent and the state-of-the- art practices in the field.
The second day of the event commenced with Anestis Anastasiou who discussed the 5 stages of a trip and indicated that everything begins with a dream. In sequence, Vassilis Polyzos illustrated how our business should use social media and disclosed the secret: "The opportunity lies in the quality and technοlogically advanced content, which follows an integrated communication strategy". Thodoris Theodoropoulos demonstrated the ways that will lead and echo eventually in the increase of hotel reservations. At the same time, Ioanna Hatzikosti, explained the contributory role of herself and of the Cyprus Tourism Organization to the enhancement and robustness of the Cypriot tourism. It's high time the event was nuanced gastronomically: George Pittas tours us in the culinary treasures of our country. Katerina Santikou, then, pointed the road that will culminate in the employees' and employers' professional excellence, highlighting the importance to always make steps forward. Finally, Dimitris Serafeimidis elaborated on how tourism enterprises can appeal to the modern traveler.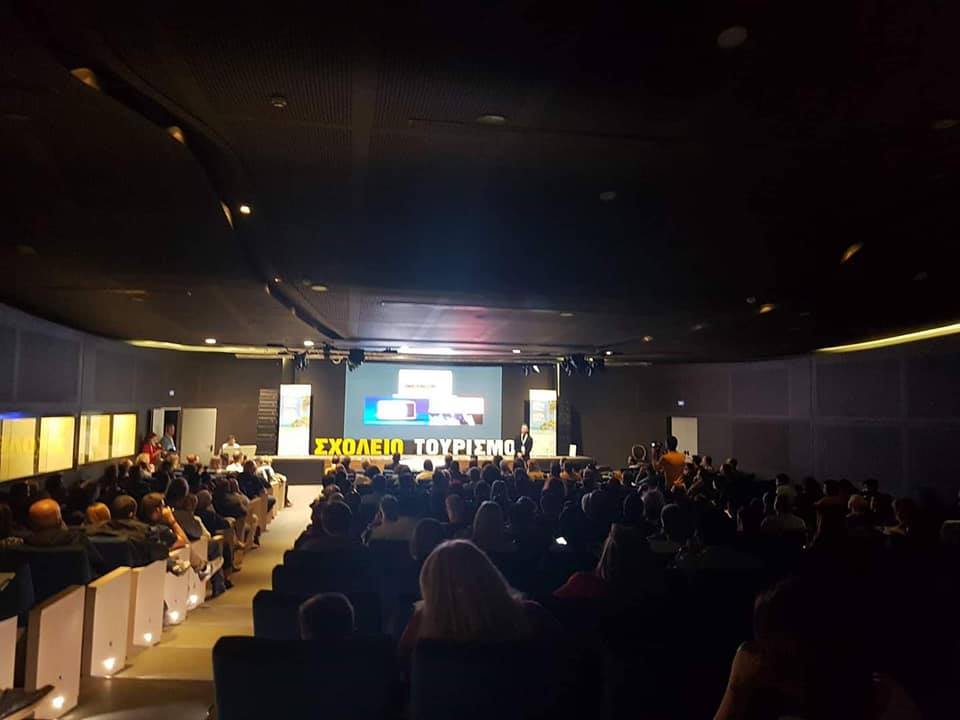 The School of Tourism On Tour was conceived by the intertwining of the Institute of The Greek Tourism Confederation (INSETE), its educational pillar SETE Training, and the Kalamata School Of Tourism.
The two-day educational event aims at enriching the Greek tourism with new layers of meaning and imbue it with a bevy of values like the cocreation, the volunteerism, the magnitude of the local communities etc. and at the same time enhance and recalibrate the modus operandi of tourism in ways that serve the aforementioned values. This very interesting dialectic which is carved out, The School of Tourism On Tour, has the ambition to take place around Greece. The School of Tourism On Tour is underpinned by the philosophy and the exemplar of the Kalamata School Of Tourism. The participation in it is open to everyone and it is free.
Such initiatives are absolutely married to the organizational objectives of our hotel and serve its binary goal: a) the hotel adopts an extroverted character, hosts the new knowledge and furnishes insights into it from its own side and practices, and b) the employees of the hotel, being an integral part xcof this initiative, were able to enrich themselves individually, socially, emotionally and intellectually within the gulf of the tourism industry and as tourism professionals.
By and large, the concept of tourism is intricately tied to the education and the evolvement of knowledge. In these respects, we are sincerely proud of having been part of such a wonderful story, the story of the School of Tourism On Tour in Halkidiki!