In this article, we recall the times when our favorite A-listers visited us. It seems that celeb-spotting is a real thing at Pomegranate:
Black Coffee
🎶 🎧 World-class Musician
Instagram profile: @realblackcoffee
This summer the Pomegranate Fountain was lucky enough to dance to @realblackcoffee's rhythm. Need more convincing? Well, the man was in da house and he is an honest-to-goodness music legend! Enjoy the video:
Anastasia Volochkova
💃 Famous Prima Ballerina
Instagram profile: @volochkova_art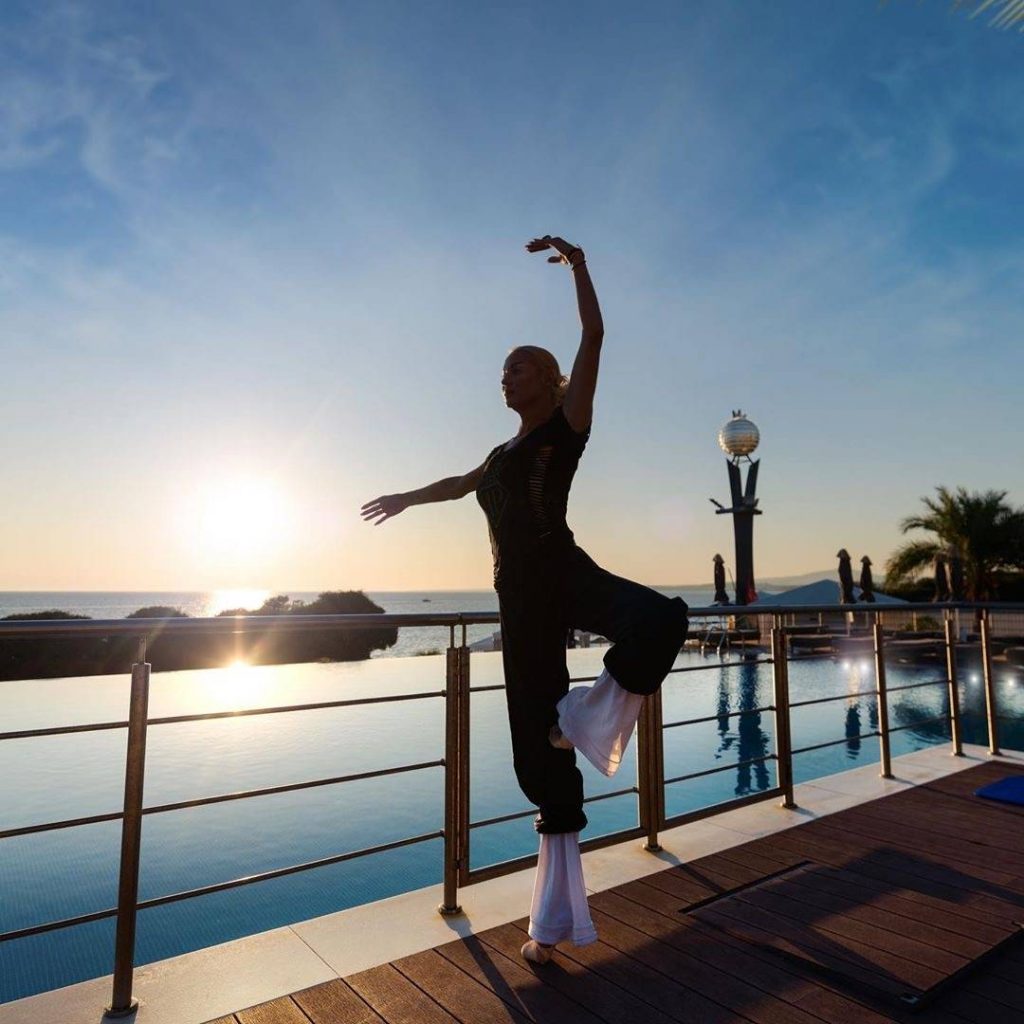 This summer we were also tickled pink to welcome Anastasia Volochkova to our resort and treat her with the signature elevated Pomegranate hospitality. Anastasia soaked up all the beauties of the hotel: She called the Pomegranate sea 'the sea of joy', named the golden olive tree, situated in our lobby, "tree of happiness", and was entranced by the Afrodita Roa Spa, describing it as a "magic spa".
One of the moments that we will never outgrow and that it will be long cherished is her generosity and phenomenally courteous gesture to give us- i.e. the Pomegranate team and guests- an unexpected gift: "I spontaneously and sincerely wanted to give you such a gift.", quoting her. Anastasia transformed the stage at the swimming pool area into a theatrically rich environment, giving totally new meaning to the hotel entertainment:
Out of the rich repertoire of her artistic abilities, Anastasia Volochkova opted not only to dance but also to sing. And in a hotel where entertainment is the bedrock, she entertained us in an irreplicable way. Grown-ups and children whiled away the evening with the master class that she gave. In turn, Anastasia enjoyed the enthusiasm, love, and appreciation that the audience lavished on her. She even mentioned that after all, she could be "a good animator for children in this hotel":
Evidently, her splits, arabesque, pirouette, battement tendu, and sauté are mind-boggling. Notwithstanding this fact, what really struck us with awe was her effervescent, agreeable attitude. In fact, she tried to please each and every guest by stopping to talk and take photos with them.
Aside from that, Anastasia did her splits among two massage beds at Afrodita Roa Spa and warmed up on a yacht, during a sea outing. Truly, ballet is everything to her and everywhere with her. Not for nothing has she been named one of the most legendary ballerinas in the history of dance.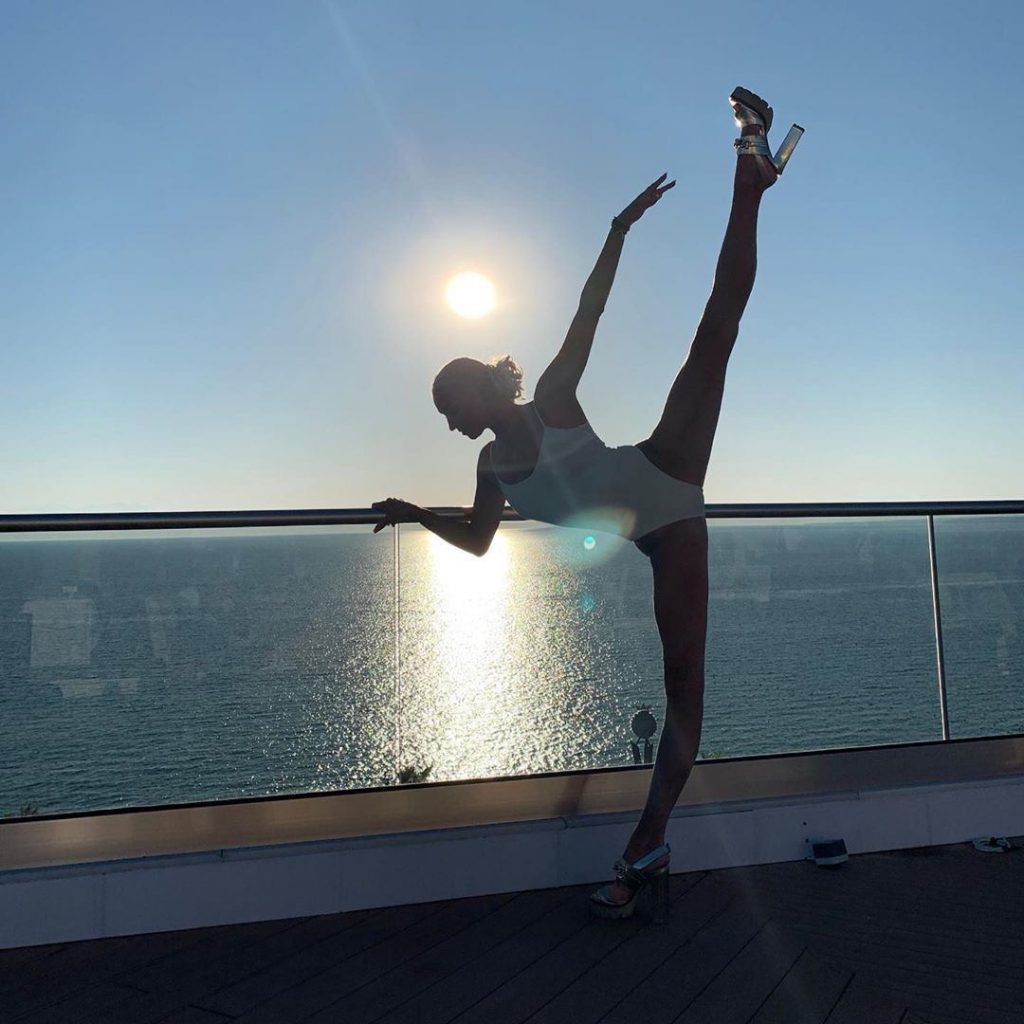 Yana Guzey
🛍️ 👗 Renowned Fashion Consultant
Instagram profile: @guzey_
The renowned Fashion Consultant Yana Guzey (@guzey_) gave, from the Pomegranate gazeebo, a lesson on fashionista glitz, elegance, statement pieces, chicness and on what to do when you are on the fence about what to wear. Well, she is, hands down, the best fashion expert and we absolutely loved having her around.
During her sojourn at Pomegranate, she gave us the valuable tip that during the summer vacation, should we feel comfortable with our daily life fashion routine, we should not change it. In her own words: "The wardrobe is practically no different from the city wardrobe. I do not need to take a break from everyday clothes, it is my lifestyle, wherever I am."1 Concomitantly, she pointed out that she doesn't feel particularly comfortable wearing vacation attire like "pareos, T-shirts, shorts", etc.
Moreover, at the vanguard of every brand-new fashion trend, she highlighted the magnitude of going local, and in this case, going Greek. Pursuant to a Greek-oriented style, she suggested "just a laconic linen dress + sandals", the absolute combination conjuring up images of Ancient Greece and accentuating the Greek beauty. Furthermore, we loved all of her outfits, but her kimono outfit was a standout:
Last but not least, it cannot be gainsaid that Guzey's visit reset the fashion standards of our team and guests! And that's a lovely thing to see happen!