In a world portrayed by interminable requests to pay so as to get, freebies, giveaways and anything else that encloses the notion of free is always cordially welcome. In support of this observation, The Psychology of Free contends that:
"A positive charge is experienced when offered an unexpected gift, and this sensation of joy is likely to impact heavily on the subsequent choice. Indeed, the chance of receiving a freebie may appear like a rare reward in a world where people frequently have to pay for visiting public toilets. Additionally, when offered a free item, people typically have lower expectations regarding its quality, and these lowered standards are easily surpassed" (Krockow, 2019). This under promise-over deliver ploy as well as the rarity of getting something for free not only do bring our delectation but also point out how the best offering should be. This finding has particular resonance for the hotel industry. Below, we illustrate the freebies that Pomegranate offers. Indeed, the notion of "free" is particularly prominent in our hotel policies and brandscape, and, sure thing, this makes us all happy!
1. Champagne breakfast every Sunday
2. Bathroom slippers
Note: Whereas we provide the most comfortable bathroom slippers, they may become very slippery should you use them in the pool area or on any marble surface. This is the reason why it is highly recommended that our guests use their own flip-flops when they are out of the rooms.
3. Unlimited access to our world-class 1,800 square meters Spa Park
Cherish the day at our halcyon wellness paradise, the Spa Park; a gift for every qualified stay.
The Spa Park includes the following experiences:
The Pebbles Path that tones your body with a one-of-a-kind walk. Water temperature changes pleasantly and pebbles offer a beneficial foot massage.
The Aromatherapy Shower.
The Tropical Shower.
The Seawater swimming pool with a temperature of 22-26 Celsius degrees.
The Pool with Cold Water.
The Byzantine Hamam.
The Ice Fountain.
The Himalayan Salt Bath.
The Finish Sauna.
The Kneipp Concept, an alternating hot and cold footbath that improves circulation, relaxes and beautifies your feet.
The Russian Sauna.
The Hydrotherapy.
The Egyptian Bath Rasul, a mud treatment in royal surroundings.
The Fitness Center that will help you maintain your fitness routine during your sojourn with us.
When visiting the Spa Park, observe the details because it is these sophisticated details that make the difference at Afrodita Roa Spa. Such as the architectural motifs reminiscent of Mount Olympus, the visual effect of a "sky with stars" on the roof, the eucalyptus, orange and mint aromas in the steam bath and showers (hot tropical shower and cool tropical fog shower). Avowedly, Afrodita Roa Spa is among those experiences that are worth planning a whole trip around.
And it seems, after all, that the Afrodita Roa Spa not only does it open its doors to Beauty, Pure Feelings, and Self-Indulgence but it also opens its doors for free!
4. Tea and dry fruits at Afrodita Roa Spa
5. Beach towels for use inside and outside the hotel
6. Luxurious bathroom amenities by Apivita, Chopard, and Hermès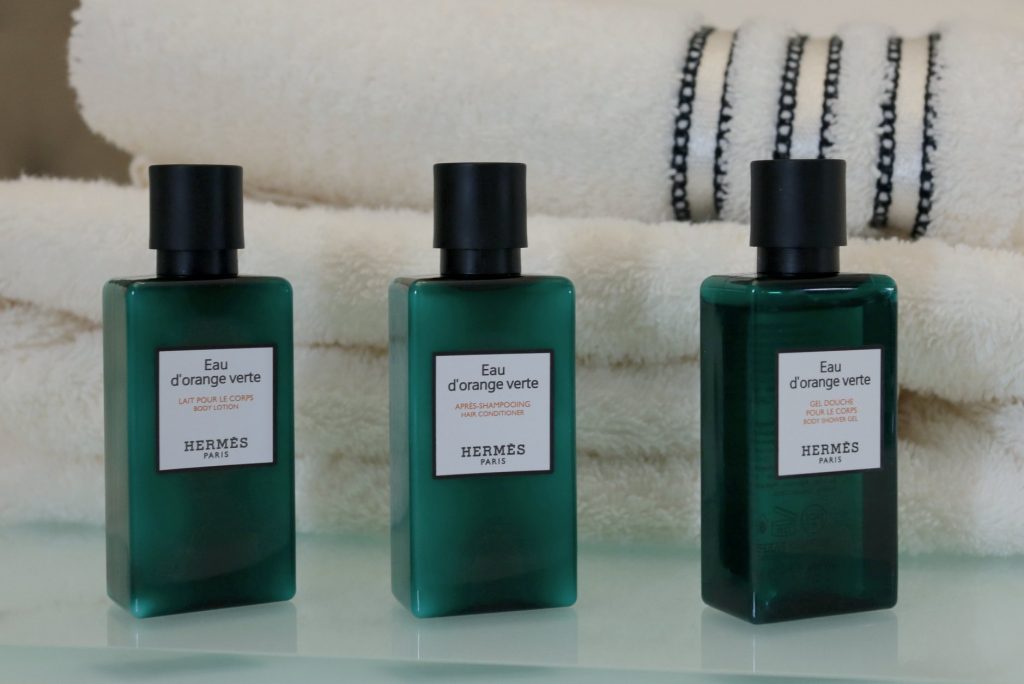 7. A swarm of child/baby amenities and nursery stuff
(Baby cot, baby stroller, microwave, baby food steamer/blender Avent, bottle warmer, sterilizer, floor mat, night pot, baby high chair, baby toiletries -shampoo & wash gel-).
8. High-speed wireless internet access
9. Free Airport Transfers
Complimentary Arrival/Departure Airport Transfers (total value of 130 Euros) are offered to guests who book directly through the official website of the hotel, on-site (at the hotel reception) or through our dedicated Reservations department for stays of minimum 5 nights or more.
Please note that third part reservations do not entitle you to this perk.
10. First child stays free
First child under the age of 12 years old stays free in existing bedding.
11. Free 15 min. massage by the sea at our spa gazebo (one per adult)
Each direct reservation-through the official website of the hotel, on-site (at the hotel reception) or through our dedicated Reservations department- is entitled to a 15 min. complimentary massage treatment in our special gazebo on the beach.
12. Bottle of wine and fruits basket upon arrival
References: https://www.psychologytoday.com/us/blog/stretching-theory/201908/why-we-love-free-stuff-too-much